Academy student builds up a £2m portfolio with business partner….
Two years ago, Rebecca Murray knew nothing about property. Now she is a director of a company making an average profit of £11,000 a month from a £2m real estate portfolio. Rebecca started out with just £2,000 to invest after watching Samuel Leeds' videos and joining the Property Investors Academy. She has tried her hand at every strategy going and recently secured a lease option agreement on a land deal with a Gross Development Value of £9m.
'I became addicted to Samuel Leeds' YouTube videos'
Rebecca has watched so many of Samuel's YouTube videos that even her young daughter recognises his face, while her husband jokes that it feels like he has moved in with them.
"I watched one video, then that was it. I couldn't stop watching them. I've still got a folder at home from when I started. It's like this thick of me writing everything off Samuel's YouTube channel.
"I just got addicted to that and then I was like, that's it we're going to the crash course. From there came the academy and I've just gone upwards since," she recalls.
Rebecca still watches the content now to refresh her memory and is grateful for all the help she has received from Property Investors' multi-millionaire founder and his team. 
"I would never have achieved what I have done without the Property Investors Academy and the people I've had around me," she acknowledges.
Rebecca was looking for something else to pursue alongside her signs and graphics business when she first came across Samuel's YouTube channel and then read his books.
However, it was only during one of the lockdowns that she became serious about becoming a property entrepreneur.
"In lockdown, when Samuel did all the nightly calls to keep everyone motivated, that's when I really felt I had this passion for it. If I feel something so strongly, I know I'm going to go for it."
She teamed up with David Taylor, another Property Investors Academy member, to form a company called Rave Investments – an amalgamation of their two names. 
"When we started Rave Investments, that was when I realised there was no going back for me."
The first property in the firm's portfolio was a buy-to-let.
"It was mid-Covid when everything was shut down. We found this deal and decided to keep it because it was a good little buy-to-let. The purchase price was £50,000, but it took that long to go through – about 12 months – that it was worth £60,000 when we purchased it.
"We sold a deal in the meantime and project managed it as well. So that paid for the deposit. It was a free house to us."
They sold the deal to an investor in London after offering it to a list of potential customers drawn up from their contacts and reaching out on social media sites, including Samuel Leeds' platforms. 
Working day and night reaps rewards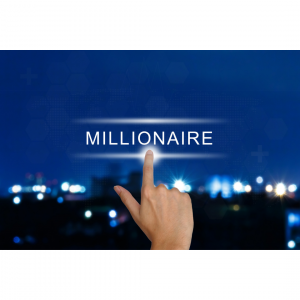 From day one, Rebecca says she was determined to scale up and become a property millionaire, although it has been hard juggling all their commitments.
"We've been working day and night with having our own businesses alongside. It's not been an easy road at all, but we've just been carrying on. We've just been very active with every opportunity that's come to us or we've found.
"Networking across Samuel Leeds' platforms and all social media, and going to the events – it's all been amassed through that."
At times she pinches herself at how quickly they have grown and how much they have accumulated since Rave Investments was set up just over a year ago.
"I don't even sit down to look at the figures. I'm just on to the next one and the next one…Then when we finally sit down, we say have we really done this?"
She is used to hard work.
"My husband says to me 'if there's anyone who can do it, you can do it.' He doesn't know anyone who works as hard as me, so if I want something I'll go and get it."
Other members of her family were unaware in the early days that she was involved in property because she hid it from them.
"I didn't tell anybody at first. I kept it quiet. Then as time has gone on, and I've grown more, people have got to know, and they've been really supportive.
"It got to a point where I couldn't hide any more what I was doing. It was all over social media and people were seeing me in different areas asking me questions. Even in the signs business, people started asking me about it.
"I realised a lot of my customers were in property, so we had something else to talk about as well. It all tied in nicely."
Looking back, Rebecca feels her reticence initially was motivated by a desire to show people what she had achieved, rather than telling them in advance what she was going to do. 
Certainly, her property deals speak louder than her words. They include two rent-to-rents and four HMOs.
One of the rent-to-rents is a two-bedroom apartment in Manchester city centre and the other one is in Liverpool. Rebecca and her business partner David plan to turn that one into a 'party pad.'
Unlike many people offering serviced accommodation, who prohibit parties, theirs will be specifically designed for this purpose.
Set over three floors, each one will sleep eight people, with the intention being to separate off the top floor for couples only. 
"We found when we did our research that there are all these party pads but where are couples going to go? They can go to a Premier Inn, but it would be nice to have somewhere right in the centre, next to all the bars, where they can go and enjoy themselves," Rebecca explains.
The four HMOs have been funded through joint ventures again, found through the Property Investors Academy, as well as people asking to work with them.
"People see we're active and have got experience, and they like us as people. They trust us," she adds.
Two of the houses obtained through these partnerships are next door to each other in Burnley. The plan is to turn each one into a six-bed HMO and convert the basements into two-bed apartments. The latter may be sold off to finance other projects.
'I made £4K travelling to Winners on a Wednesday interview'
Rebecca says she and David, a structural engineer, work well as a team, bouncing ideas off each other and covering for one another. If something needs doing on the property side and David is busy with his consultancy business, Rebecca will step in, and vice versa.
This collaboration even extended to David driving Rebecca to Samuel Leeds' house recently to be interviewed for his YouTube Winners on a Wednesday show, while she did a deal.
"I was on my laptop as usual and made £3,999 from selling the deal," Rebecca reveals.
David too has appeared on Winners on a Wednesday to talk about his success. 
They both believe in taking a direct route to reach their goal. The priority for them is to secure the deal first, obtain builders' quotes for any renovation work which needs doing and then find someone to fund the project.
Not everyone would have the courage to do this, but years of being in business has given Rebecca the confidence to press ahead, even if they have not yet lined up a partner.
"You can't worry about those things, or you'll never get there. If it's a good deal and the deal stacks, it's going to go. It's a no brainer to me."
Rebecca says what separates a successful entrepreneur from an employee is having that bravery to tackle the 'a, b, c' and then worry about the 'x, y, z' later.
"People who work for someone else are afraid of not succeeding, and they're afraid of the x, y, z problems. They see the negativity before they see anything else, and I think that scares a lot of people away. But you can overcome anything if you want to, or I believe I can."
Rebecca is now moving on to bigger projects, although she still has her eye on refinancing the small, buy-to-let, which is now worth £70,000, to raise more money for investing.
She has just agreed a lease option on a land deal which came about through doing some networking for her signs business. It put her in touch with a builder who she later asked to give her a quote for some work on a small HMO scheme she was working on.
During their meeting he mentioned some other projects he was involved with. When she asked him what they were, he put her in contact with a land agent.
"This is where this joint venture deal has come from. We've got a two-year option on it, subject to planning. It's to build nine units plus a conversion. Each unit will be worth £1m. There's a planning gain of £1.1m on it, so it's massive. This is like a real learning curve for me.
"To think that it started just with a little conversation on my signs side is brilliant."
Rebecca enjoys joint venturing, describing it as a 'great experience all round.'
"There's a saying if you want to go fast, go alone but if you want to go far go together. I definitely agree with that. That's why we decided to do it like that. There are many people out there who don't want to joint venture but we felt our personalities suited that strategy.
"We meet up with our JV partners all the time. We have breakfast and go through business matters. Even that brings future investments. We've had a couple of our JV partners now asking us to do another one. So just from that it can roll onto other things."
Asked what her reason for being in property is, she replies:
"Everyone loves the money, but I love what I do. I love learning about new things all the time. I'm probably 10 per cent into my journey. I've got so much more to learn. Every bit of what I do learn I'm like, right what's the next step. I just want to progress in property and inspire my kids."
Rebecca's tips
Everything follows from putting your money into education. If I hadn't joined the Property Investments Academy, I wouldn't have met David and had my investments.
If you're looking for a joint venture partner, first and foremost get the deal and package it up. Then you can present something good to them. Once they see the figures, at the end of the day that's what they're after. They want to see their money is going to be put to good use.
I've learnt so much along the way from throwing myself into it. Whatever job you're going into, most of the time you won't know all the ins and outs at first.
You've got to be in debt to make something. That's good debt. I wasn't in debt at the start but if you've got no debt and no cashflow, then you have to take a job.
Samuel Leeds' verdict
"Rebecca is clearly addicted to success and winning in property. To get the kind of results which she's achieved you need to not only work smart but work really hard. Part of her success is that she's also had good people around her. She is a very good example of somebody who knows the power of joint venturing."
Share this video: https://youtu.be/_-PvkYzGrMA
🎥 How to build a property portfolio from scratch in 7 DAYS: https://youtu.be/RWEkj1y8XKs
📖 My favourite book: https://amzn.to/39VcYLa
❓ Have a question about property? Join my Property Facebook Group: https://www.facebook.com/groups/77861…
🗣️FOLLOW ME ON SOCIAL MEDIA:
Instagram: https://www.instagram.com/samuelleeds…
Facebook Group: https://www.facebook.com/groups/77861…
Facebook Page: https://www.facebook.com/OfficialSamu…
Twitter: https://twitter.com/samuel_leeds
LinkedIn: https://www.linkedin.com/in/samuel-le…