Bolton man goes from debt and depression to a growing property portfolio
A former hospital porter who was battling debt and depression has turn his life around to become a property entrepreneur.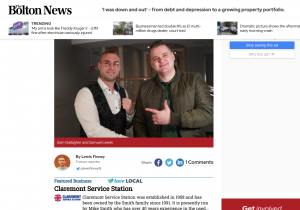 A year ago, Sam Gallagher from Bolton was on tablets for depression and had debts of more than £23,000, having recently split with his girlfriend and sunk money into property investing courses that did not work out.
Today Sam's life is unrecognisable. He is now a successful property entrepreneur, having recently clinched his third property on his growing portfolio, and has found happiness with his new partner.
He said: "I ended up at the doctors on depression tablets.
"By May last year I was down and out. But the key thing I would say to everybody, whoever you are, is don't ever give up no matter how bad your situation is."
The former Harper Green School pupil discovered Samuel Leeds, a 31-year-old multi-millionaire founder of Property Investors, the country's largest training school of its kind. Sam still believed that getting the right education was key to his success and so decided to enrol on one of his courses.
"I've always wanted to work for myself. I don't like being employed and having to answer to a boss. I was always looking for a way out of the nine-to-five life," Sam said.
Sam does not own any of the houses which make him thousands of pounds a month. He uses a rent-to-rent strategy which he had learnt about on his course.
Under this arrangement, the owner would be paid a guaranteed monthly rent. In return, Sam would be allowed to lease out the rooms individually at a higher rate and pocket the difference.
And although he had the entire country to aim at, he found his hometown was the perfect place to make money from bricks and mortar.
He said: "I never thought Bolton would be like this, but every weekend the rooms were full. We were getting bookings during the week. It got to the point where I was getting too many bookings and not enough rooms available. It was crazy."
Samuel Leeds says Sam deserves a lot of praise for getting himself out of "a really bad situation".
"When you're starting out from scratch, and you've got personal issues and debts, you've got to look at the long game. That's what Sam did.
"He had a thirst for knowledge and then knuckled down to building a portfolio. He has changed his life around dramatically in the space of a year and I think he'll go on to build a very lucrative portfolio. He is to be congratulated for doing that."
Article By Lewis Finney
Click Here for full article