Introducing our 100th Winner on a Wednesday – Laurence LeFevr
It's been a 'rollercoaster' year for Laurence LeFevre, having gone from losing his job to becoming financially free from just one property deal – a 'cheap as chips' block of flats in Blackpool which he bought at auction. Laurence implemented the knowledge he gained from attending the Property Investors Crash Course to get himself back on his feet and is now officially our 100th Winner on a Wednesday!
Collapse of tour operator Thomas Cook leads Laurence on a new journey 
Laurence worked for 10 years in sales recruitment until the well-known travel firm Thomas Cook went under in 2019 and he found himself out of work. Searching on YouTube for strategies to replace his income, he came across Samuel Leeds' Financial Freedom Challenge.
During the challenge Samuel proved it was possible, without having any funds, to make enough money in a week from property investing to cover all his bills.
Laurence was so impressed he booked himself on to a Property Investors Crash Course at the ExCeL convention centre in London and was captivated by what he was hearing. 
"I probably learnt more in three hours at Samuel's course than I did at three years at university and having £30,000 of student debt," says Laurence.
Up until then he had been investing in stocks, but they were only giving him a return of three to five per cent. At the course Laurence discovered he could achieve a return on investment of 20 to 25 per cent if he invested in property instead.
"I remember thinking if I just go home and sell all my stocks and put it into property, I can increase my cashflow five times and I'll be financially free within a year."
So that's exactly what the 32-year-old did. 
"I took literally everything I learnt and just threw myself into it, rather than just carry on learning."
Laurence realised that to launch himself in the world of property he would need to get a mortgage in principle. The only problem was that he had just lost his job. But then he remembered what Samuel had told his audience at the crash course.
"He said if you're going to buy a cashflow producing asset you don't need to have a full-time income yourself. It's based on the asset itself."
He spent a frustrating couple of months after the course talking to mortgage brokers and getting 'laughed out of all the banks,' but eventually persistence paid off and he obtained his mortgage promise. Laurence then booked about 40 viewings in one week in Liverpool and Nottingham.
Coming from south-east London, he was unfamiliar with these patches. In fact, this was all new territory to him as he hadn't even been on any viewings before. However, he was confident, having done his research, that Liverpool was an up and coming place. He had also met many investors who had bought properties in the city.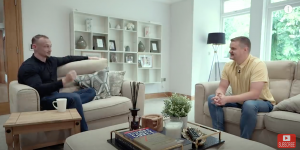 Most of the due diligence he did was on the ground. "I spoke to local estate agents and found out what they thought were the best postcodes. I talked to a lot of different taxi drivers as well and they warned me off certain roads. There was a house I was thinking of buying but when I spoke to a neighbour, they said there were a lot of gangs in the area."
"As soon as I saw it, I got my calculator out and my spreadsheet and went through everything we learnt on the crash course to work out what the cashflow and ROI would be. I thought this is unbelievable. If I can make this work, it will be making thousands and thousands of pounds every month."
He bid for it at an online auction, but admits he felt sick when the auctioneer said he was the highest bidder. "It was a nerve-wracking experience, especially when a week later the pandemic hit. I thought to myself, 'oh God what have I done,' but then I spoke with my management agency and they said everything about the property was just perfect. It worked really well, so I just had to trust the process, go with it and it's paying off."
Laurence bought the block of apartments with a bridging loan and lets it out as furnished accommodation to visitors.
Despite two of the flats not having been renovated yet, his cashflow is already excellent, he says. "In August, the revenue was £6,000 and that's in the middle of a pandemic. I can't believe a year's gone by and I'm making £6,000 to £7,000 a month. I'm still pinching myself now!"
Down the line, he plans to partner with local engineering firms and theatres, to ensure it is fully booked.
Laurence found the flats through a deal sourcer who joined the Property Investors Academy and has also appeared on Winners on a Wednesday. He secured a rent-to-rent arrangement through her and she introduced him to a management agent who viewed the apartments with him. He has since taken on the agent.
His ambition now is to become involved in buy, refurbish and refinance projects and to keep growing his property business.
"I want to see how big I can make it and I want a castle as well, like Samuel's one in Worcestershire. I want to try to get a bigger one though!"
Laurence also checked websites, such as SpareRoom and OpenRent, to find out if the rental demand was good and what house prices were like in the places he was targeting. 
"I just went through the crash course booklet and put all the information into a spreadsheet. I trusted the maths basically and made sure it worked."
Finally, he bought two houses. The first one cost £90,000. "I got it for £5,000 below the asking price but it was also £10,000 under what the owner had bought it for two years ago. That was because they were having a divorce, so technically I made £10,000 by just buying it."
He put down a deposit of £25,000 and now rents out the house for £590 to a surveyor and another tenant in receipt of housing benefit. His mortgage payments per month amount to £150 and he is making a profit of about £355. 
Laurence calculates that his ROI on the two houses is 17 per cent. It would have been higher, but there were unforeseen expenses, such as having to have a new boiler and a sensor.
'I bought a block of flats and then a week later the coronavirus pandemic hit' 
Having lived in the Amazon Jungle, creatures like giant anacondas and jaguars don't scare him at all, says Laurence. Nevertheless, he felt more than a little bit of trepidation when the moment came to clinch what proved to be a life-changing property deal in Blackpool.
Low house prices attracted him to the seaside resort, although initially he wanted to find a 'no money down' rent-to-rent arrangement. However, when he saw a block of ten flats for sale for just £170,000, he changed his mind.
Laurence's tips
"One of the biggest lessons I've learnt is if an opportunity is good, you'll always be able to find a lender."
"Make sure you trust in the numbers. Do your due diligence and take into account everything that could go wrong."
"If you want to invest in the housing market, just go to the Property Investors Crash Course. Ninety-nine per cent of the population don't know anything about investing for cashflow or passive income. You learn that straight away on the course."
Samuel Leeds' verdict
"Laurence's story is so massively inspirational. He became financially free from buying a block of flats cheap as chips and is making so much more money than when he worked for someone else.  
"I've now interviewed one hundred people for my Winners on a Wednesday show on YouTube. That's one hundred people who have had their finances revolutionised through property investing as a direct result of my training – and they just the ones who shared their stories.
"I break down and simplify property investing, and train people how to live the life they deserve, so that, like Laurence, they don't have to rely on an employer any longer."
Share this video: https://youtu.be/1XcJuG6UnfU
🎥 How to build a property portfolio from scratch in 7 DAYS: https://youtu.be/RWEkj1y8XKs
❓ Have a question about property? Join my Property Facebook Group: https://www.facebook.com/groups/77861…
🗣️FOLLOW ME ON SOCIAL MEDIA:
Instagram: https://www.instagram.com/leeds.samuel
Facebook Group: https://www.facebook.com/groups/77861…
Facebook Page: https://www.facebook.com/OfficialSamu…
Twitter: https://twitter.com/samuel_leeds
LinkedIn: https://www.linkedin.com/in/samuel-le…