Property Investors student set to bag £1m from rent-to-rents
Backed by his fiancée, Abbas Pardhan spent £2,000 on enrolling on a Property Investors' course, rather than a flight to Dubai to visit her in her family home. Now, just 18 months later, Abbas says he is about to bag £1m after creating a 250-unit, rent-to-rent empire centred on Birmingham where he lives. The entrepreneur has also taken on nine staff to help him run his business. His success is all the more remarkable, given that he received around 1,000 rejections from agents before landing his first deal.
'Samuel Leeds' YouTube content was so valuable'
Abbas was looking for a way to get into business when a friend suggested he should read more books to increase his knowledge. 
"He told me that an average American reads one book a year and their salary is probably around the average minimum wage. The average CEO reads one book a week and makes about 319 times more than an average American. I was like, whoa, I need to start reading books," explains Abbas.
He followed this up by attending some courses but felt none of them delivered what he was hoping to learn which was how to set up a solid business. Then he came across Samuel Leeds' YouTube videos and started studying them from morning till night. 
"The content was so valuable. I literally took that as a university. I would wake up early in the morning, grab a book, sit in front of my laptop and just make notes. That was my day, every day, spending time on Samuel's YouTube channel learning everything and trying to figure out the formulas he was giving out and how to do due diligence."
Abbas spent two months doing that until he managed to get a place on a Property Investors Crash Course in the summer of 2019. A few months later, in December, he signed up for the company's Deal Finding Extravaganza.
Before that he had been making lots of telephone calls to get launched in property but had received between 700 and 1,000 rejections, he says.
"I'd wake up every day and start cold calling. A big mistake I made was that I wasn't understanding the difference between sales and closing. Once agents told me they were not interested in corporate lets I would just hang up. 
"I didn't understand [I needed] to empathise with them and say, hey I understand you don't do corporate lets. If I was you as an agent, I probably wouldn't do them myself because of all the bad experiences you've probably had but let me explain how we do it differently. I didn't have that knowledge at the time."
Wearing a suit and tie, Abbas resorted to knocking on agents' doors, covering most areas of the city, but again failed to make a breakthrough. 
The wannabe businessman watched a video which recommended that if you believed you were going to make it in life, you should record your journey. That way you could look back on what you had done.
The moment Abbas crossed the point of having had 400 rejections he started recording himself. At the time he was living in a house with eight other people sharing two bathrooms. His bedroom measured about 150 sq. ft. and doubled up as his office. 
"What made me hustle I think comes from the entrepreneurship drive. It wasn't really about the money you make at the end of it, it was rather the game. It was like, why can't I figure this game out?"
It was only when he came on the advanced, three-day Deal Finding Extravaganza and was taught how to seal a deal that he was finally successful. After building a rapport with an agent in Selly Oak, he secured a rent-to-rent agreement on a six-bedroom house.
His fiancée Sahar, whom he has since married, was 'over the moon' when at last he completed his first property transaction.
She recalls: "There was a time where he had a choice to come and see me because it had been eight months since we'd seen each other or invest some money in property training and buying books. I told him do that. So, I was very happy that it worked out."
With a lot of hard work and persistence, Abbas had conquered the first problem facing any aspiring property entrepreneur of how to clinch a deal. The next problem was how to get tenants to fill his rooms.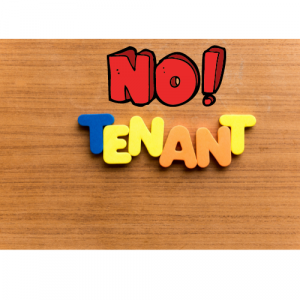 'It was scary not having tenants lined up' 
Abbas had signed a contract to pay the landlord of the house £1,560 a month but after 10 days he still had no tenants, despite advertising the accommodation on SpareRoom.
It was a scary time, he admits. However, he had negotiated a rent-free period of three weeks to allow him to refurbish the house. With the help of another man, he painted the whole house for £200 and spent just under £300 on staging it for the market.
Abbas used every tactic possible to bring in tenants, including dropping the rent and reading books to learn the art of selling. He also printed leaflets with photographs of the property and spent five hours walking into every shop he could find in the area, offering his rooms at a discount.
He stuck some of his leaflets on a pole outside the house and eventually after six weeks it was fully tenanted. Enough of the rooms had been filled by the time the first month's rent was due to cover the amount owed. By the time it was completely full, he was in profit.
"I was renting out each room for £400 to £430. After paying for electricity, gas, water wi-fi, Council Tax and a cleaner, I was left with £600 to £750 a month. As soon as it got tenanted, I wanted more."
Abbas learnt from the Deal Finding Extravaganza the importance of taking action straight away.
"I found my first deal on the course by picking up the phone. With Samuel's courses one thing that is different is that he enters the room and says we're going to take a 20-minute break and make the calls now. That gave me some enthusiasm and motivation."
The same agent who had given him his first rent-to-rent deal, gave him two more properties to take on at his request. One of them, a four-bedroom house next to a university, turned out not to be profitable because he was only managing to let three of the rooms.
It was one blip along the way to growing his business by adding more and more rent-to-rents to his portfolio. One of his assets is a commercial block with 30 serviced offices. He also controls HMOs ranging from five to 32 rooms, including one with 15 rooms all en suite, as well as apartments. 
On top of that, after just eight months in property, Abbas clinched a contract with a local authority to provide supported accommodation.
"It's the same model. We rent a property from a landlord but rather than housing professionals we house the homeless. 
"These tenants are homeless, depressed, alcoholics and drug addicts. They need support workers to help them eventually live independently."
He and Sahar, who joined him in the business last year, are also trying to take the next step of becoming developers. They are looking at a 37,000 sq. ft. site in Aston with outline planning permission for 40 apartments and 50 parking spaces to help them build more wealth.
"Once you've made so much happen you get into the mindset that anything is possible now if you put your heart into it and work hard," says Abbas.
Mentorship has been crucial to his personal development. Last year he attended a Discovery Day run by Samuel Leeds, Property Investors' founder, to pick his brains.
"I do believe in mentorship. I realised the only way I was able to grow my income was when I viewed my personal development and knowledge and skills. Samuel has taught me a lot."
He adds: "At that time I was netting about £10,000 but at that point I was also running around like a headless chicken.
"Then, after getting Samuel's advice, I changed things. I dropped my net margins and employed more people. Now I'm in a very good position to be able to bank my first £1m soon."
In total, he has spent more than £20,000 in developing himself through property, sales and marketing courses. That represents two per cent of the £1m he expects to make imminently. He also credits the support of his wife for helping him to get where he is now.
Abbas says his passion for property, and a desire to enjoy the fruits of his hard work, drive him to achieve even more with his property company, 10X Rising.
"We set an urgency to our goals. We don't want to be billionaires at the age of 60. We want to enjoy it while we're still in our thirties. If my goal is £50,000 a month, I would rather make it £500,000. I'll put in more effort. Then, even if I fall short of £500,000, I'll still be ahead by more than £50,000."
Abbas' tips
There was a point where I had made about £50,000. I thought I would spend it on buying my first property but looking back I'm so glad I didn't do that. I used that money to invest in myself and in the business and that business has grown so much it can take me to places where I can have more properties now. So, invest in yourself. There's a risk you might go to eight courses, and they all fail for you, but the ninth one might just hit.

If you want to get into property, you should go to a Property Crash Course, especially as it's free. That's a no brainer.
Sahar's tip
If you can think it and dream it, then you can do it. If you think you can't do it, you'll never do it. You need to see it and make it live. I tell Abbas that every day.
Samuel Leeds' verdict
"I love how Abbas has taken the strategies from the training, like rent-to-rents and HMOs, but then slowly adapted them to form his own niche. As an entrepreneur, you have to follow a template but also you have to have space for creative flair.
"One of the things I see in Abbas is his serious resilience and how addicted he is to growth. Through the discomfort and rejection, he's been growing outside his comfort zone. As he's done that his bank balance has grown, with the training we've given him and a wife who believes in him. It's such a beautiful story."
Share this video: https://youtu.be/aAoqROCJ4FM
🎥 How to build a property portfolio from scratch in 7 DAYS: https://youtu.be/RWEkj1y8XKs
📖 My favourite book: https://amzn.to/39VcYLa
❓ Have a question about property? Join my Property Facebook Group: https://www.facebook.com/groups/77861…
🗣️FOLLOW ME ON SOCIAL MEDIA:
Instagram: https://www.instagram.com/samuelleeds…
Facebook Group: https://www.facebook.com/groups/77861…
Facebook Page: https://www.facebook.com/OfficialSamu…
Twitter: https://twitter.com/samuel_leeds
LinkedIn: https://www.linkedin.com/in/samuel-le…