Former Hull City midfielder Kevin Stewart set to make millions as a property developer!!!
His first project could generate a profit of £1.8m once it is completed…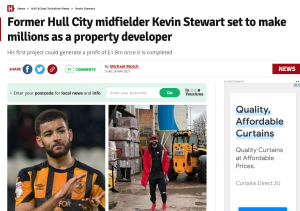 A former Hull City midfielder is set to make millions as a property developer.
Life after football can be a struggle for some but Kevin Stewart is determined to not let that happen to him.
The 27-year-old has already enjoyed a decent career by fulfilling his boyhood dream of playing for Liverpool and taking to the same pitch as Lionel Messi when the Argentine was at the peak of his career.
Now, the midfielder has been working flat out in his time away from football by learning the art of property developing.
His first project, a 48-flat student accommodation block in Birmingham, is fast turning into a gold mine as recent estimates value the building generating a £1.8m profit on completion.
Stewart, who left City at the end of last season before joining League One rivals Blackpool, is looking to turn this into a long-term project that would bring in a healthy monthly income.
Financial struggles can be a burden for most footballers when they hang up their boots but Stewart has made it his mission to prepare for life after the game.
"The stats are scary," he said. "As a pro player, it's massively important to prepare for life after football.
"There are many way to make money, but I think property is the best vehicle for building wealth.
"Some of the returns you can get are huge, and it pays out every month. There are many different strategies you can learn."
Once described as Liverpool's best tackler by Jurgen Klopp, Stewart joined the Tigers from Anfield for a £4m fee in 2017.
He made 71 league appearances for City, scoring three goals, but after relegation to League One last season he was released and left searching for a new club.
To read the full article by Micheal Mutch Click Here