Social media influencer Daniella Hemsley sparred with Samuel Leeds as they both prepare for high-profile fights in the coming weeks. Samuel is about to take on his long-time rival Rob Moore, while Daniella will be competing against fellow TikTok star Jully Poca in a tournament at the OVO Arena Wembley. At stake is a £100,000 prize and their pride – not that either of them has any intention of losing. There is another connection between the pair. Samuel is sponsoring Daniella after she took up training with him and proved she was a winner in property too, landing five deals in one day.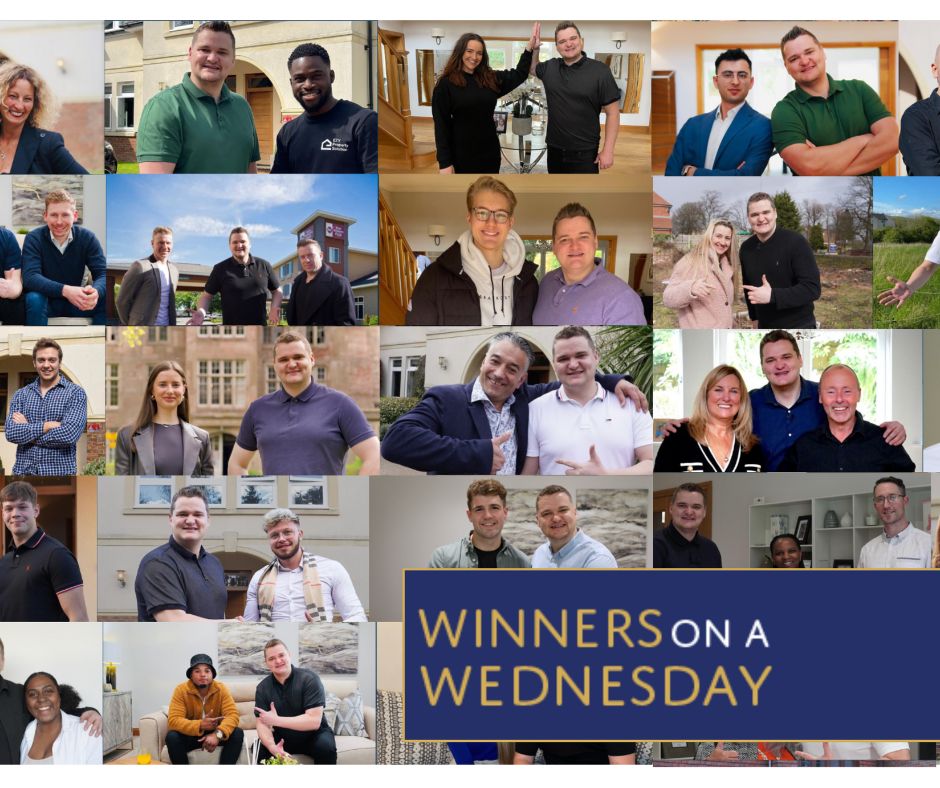 From being morbidly obese to losing 30 kilos through fitness
Up until 10 weeks ago Daniella had never boxed in her entire life. "I didn't even know what a jab was," she admits. 
But what the 22-year-old lacks in experience she is making up for with dedication, spending 15 to 18 hours a week training for her boxing match in the Kingpyn High Stakes Tournament on April 22.
Daniella, who has more than 252,000 followers on TikTok, as well as tens of thousands of Instagram followers and YouTube subscribers, declares that she is 'in it to win it.'
"I'm not actually in it for the money and fame. I'm genuinely in it because I want to be the best. And I want to put 110 per cent in and prove to myself more than anything that I can do it."
She describes herself as an influencer, content creator and media personality, posting glamourous pictures of herself on her social media accounts, including OnlyFans.
Recently, Samuel Leeds interviewed Daniella for his popular YouTube series, Winners on a Wednesday, and asked her if she made good money from the social media platform. Her reply was: "Life-changing money. I've been doing it for a year and in my first year I made £300,000."
Daniella believes there will always be a stigma around the content subscription service, but says she is 'big on self-love, body empowerment and expressing myself.' So, when she was invited to take part in the Kingpyn contest, she jumped at the chance.
"I'm all about putting myself out of my comfort zone, pushing myself to my limits. For me it was a no-brainer. It was an opportunity for me to get in the best shape in my life and to inspire people."
Having been in full-time training camp for the past two months, Daniella is now in prime condition. It is a far cry from the 'dark place' she found herself in at the age of 12 when, as news organisations reported, her parents separated, and she took to comfort eating.
"I used to be morbidly obese. I struggled with mental health for many years being a depressed young girl. [I had] no self-confidence. I decided, I want change. So, then I started a fitness journey.
"I lost 30 kilos. I grew a massive passion for weightlifting, gained a lot of knowledge and started to inspire people online by sharing my journey."
'We were completely inspired by Samuel Leeds' property videos'
Helping Daniella get ready for her big fight is her partner Akonne Wanliss, with whom she lives, and UFC champion boxing coach Leon Edwards. Akonne is not only a Mixed Martial Arts world champion, giving her encouragement and practice in the ring – he has gone into the property business with her.
Daniella had been wanting to invest her money for some time. She considered buying real estate but was put off, thinking she needed hundreds of thousands of pounds to get started. Then they came across Samuel on YouTube and became 'completely inspired' watching his videos.
Daniella, especially, felt connected to the Property Investors founder because she thought he was genuine and gave off a 'good vibe.'
Spotting that he was giving a crash course for just £1, they both turned up at the event and again found themselves drawn in by what they heard and wanted to learn more.
"We were so excited. We literally saw our future in Samuel's hands from that day and then we went on to do the advanced training," recalls Daniella.
Around a month ago they attended a four-day course at Heathrow, where Samuel taught them about different creative strategies, and how to get deals and make money passively. That was important to Daniella as she doesn't have much time on her hands.
Having already completed some online training, they got off to a flying start on the course.
"Samuel gave us a challenge. We had an hour to secure as many viewings as we could. Akonne and I really wanted to get into rent-to-rents because we loved the idea of passive income. That day we secured five rent-to-rents," says Daniella, adding: "We also sold a deal which we'd already secured before the event and made £3,000."
Right now, her focus is on winning the Kingpyn competition which is billed as the world's first influencer boxing tournament featuring the industry's biggest names. However, property remains firmly in her sights, with plans to use some of her winnings to fund investments.
For the couple the emphasis will be on finding more deals and diversifying with other strategies.
"I would love to get into serviced accommodation but for us it does need to be passive, so like a turnkey investment. We will probably work with some deal sourcers and get them to set us up some deals so that we have a passive income through property. Then we would love to go on and do BRRs (buy, refurbish, refinance projects) and start building up a portfolio for our future."
They are used to having multiple income streams. "We do everything. Akonne is a stripper and an MMA fighter. On a Saturday night he does a tour. It's like a theatre show. He's a dancer. He also did some modelling. I do the influencer side of things with content creation. I like being funny online."
The blonde-haired influencer is supremely confident that backed by the 'best of the best' she will win her bout against Brazilian TikToker Poca after picking her name out of a hat in a live draw. Daniella is also extremely fit having mastered the art of skipping with the rope passing twice and even three times under her feet for each jump.
There is no love lost between the two women who have traded verbal blows with each other already in what Daniella terms as trash talk for the media which turned personal.
"She said I have no self-respect for myself and have no respect for women. For me that's very offensive coming from a very dark place. She doesn't know my story and she doesn't know me."
Daniella is equally disparaging about her opponent. "She's a bodybuilder and bodybuilders aren't boxers. She's very muscular. She's going to tire really quickly."
If Daniella emerges victorious, she will have two more fights to get through in June and August to win the top prize.
"You get a fight pass, so no matter what you get paid to do it. Then every time you win, your fee will go up. When I win the whole tournament, I get the £100,000 prize money."
Promising to watch her from the ringside will be her mentor and sponsor Samuel Leeds who plans to bring along his brother Russell Leeds, the company's CEO.
"Once I win jump in the ring with me," says Daniella – an invitation Samuel was more than happy to accept when he interviewed her.
Being successful in sport and business interwine with each other, she believes, with both requiring the mindset to push oneself and learn new things. In that spirit, Samuel also sparred with Akonne to ready himself for his encounter with Rob Moore on July 1.
The property entrepreneur said on a podcast he thought he would win a fight against Samuel who like him is a self-made multi-millionaire. So, Samuel challenged him to put his money where his mouth is. They agreed to fight each other in a £50,000 boxing match and then upped the bet to £100,000.
Daniella will also be cheering on her backer, convinced that it will be his arms that are held aloft at the end of the contest, having been impressed by his boxing in the gym. He wasn't an 'easy spar' and definitely put pressure on her, she says.
The novice boxer will be sporting the Samuel Leeds branding when she steps into the ring, driven by the will to conquer and come out on top. She listens to motivational speeches to help her.
"I manifest. I'm a big manifester. I feel like I've manifested my whole life."
A total of eight men and eight women, who have 210 million social media followers between them, will be competing in their respective tournaments.
Daniella is expecting millions of people from all over the world to watch the show either live or on pay-per-view and is excited by the prospect.
"I'm loving this boxing stuff, so I want to win this tournament and then there's some other potential promotions I could go on and do. But alongside that I do want to carry on with my businesses and push property more as well."
Samuel Leeds' verdict
"Daniella's story of how she recovered from depression through fitness is so inspiring and I'm super proud of how well she is doing in property. I can't wait to see her in the fight. I'll be there on the front row. 
"They've got a film crew filming the tournament for a Netflix documentary. It promises to be a huge event which is why I wanted to sponsor Daniella – and because she invested in our training. I like to invest in people who are investing into themselves, so I thought when she mentioned what she was doing this would be a good fit."