The power of property to transform lives is no more apparent than with Lauren Jago and her partner Lyam Hitchens. They have gone from having no money to controlling a portfolio of holiday lets and HMOs in Devon and Cornwall which is set to bring in around £350,000 a year. The couple say the key to solving their financial problems was joining Samuel Leeds' academy.
Rent-to-rent paves the way for more deals
Less than a year ago Lyam and Lauren couldn't even get finance for a microwave because of debts run up on credit cards. To make ends meet Lyam ran a business on eBay and Lauren worked all hours as a waitress, barely seeing her children as a result.
Then the couple came across Samuel Leeds and realised that they didn't need money to get started in property. It was something Lyam had long wanted to do, so they went to a crash course run by the Property Investors founder.
Despite being sceptical and not impulsive by nature, it was Lauren who turned to Lyam afterwards and said: 'Let's just do it.'
"We went out and tried doing it from looking at the YouTube videos, but then I realised we needed to get some education," says Lyam.
They took out a loan to join the academy in November 2021 and began to learn about the various methods of deriving an income from real estate. While still on the academy, they decided to focus on finding and negotiating deals on properties for investors to buy.
It didn't, however, go to plan. They kept getting rejections and on top of that it was draining their resources.
"We were trying to do deal sourcing, but it was taking up so much time. You're starting with no money, and you've also got the fuel costs," recalls Lyam.
Their attitude was a problem too, says Lauren, because they both felt the pressure of having to make it work.
"We were just like, it's not working. We're not getting anywhere. What are we going to do? And because our mindset was, it's not working, nothing was working."
Then the pair decided to change tack and concentrate on a different strategy, helped by the mentors at Property Investors. Finally, after six months they landed their first deal by following what they had been taught to do. Through an agent, they found a large house in Plymouth and negotiated a rent-to-rent agreement on it.
After constantly being rebuffed, Lyam says they 'clicked' with an agent who had dealt with rent-to-rents before. What made the deal possible was the fact that they didn't need to use any of their own cash.
Lyam and Lauren entered into a joint venture with another academy member who put in the funds. As Lyam describes it, they did all the legwork in setting it up and run it day to day.
The investor finance went on giving the property a light refurbishment and paying a portion of the rent upfront. Lauren and Lyam rent it out on a room-by-room basis, using the profits to rent the house from the landlord.
It already had an HMO licence with students living there normally, but when they went home for the summer Lyam and Lauren rented it as serviced accommodation.
They went on to clinch three more deals including another HMO in Plymouth and two major lease option agreements. Before they knew it Lyam was a full-time property entrepreneur and Lauren is about to give up her job.
One 'yes' leads to taking on two blocks of flats
Just one person saying 'yes' to the couple has allowed them to take control of two blocks of flats and rent them out to holidaymakers. The properties are in Truro and Newquay. One block contains six flats and the other five, plus a shop.
An added bonus is that they have the right to buy them down the line.
"The two deals we got were with the same owner. We've structured it similar to the rent–to–rent but on the back end of that you've got the option to buy – not the obligation – at an agreed price at a later date," explains Lyam.
They have an option to buy one of the apartment blocks for £1.7m, and the other block for £750,000. As long as they exercise that right within the next five years, then that is the price they would pay for each one.
There is a rider to that in the contract for the Truro property which states that if the property shoots up in value by 50 per cent, then they will pay an additional ten per cent. Even so, Lyam expects it to be worth £2.1m by the end of the agreement period.
"It's such a good property with profit. If we don't have the money [by then], we'll be able to find the money from an investor," he says.
Their deals so far are proving to be highly lucrative. They have a waiting list for their Plymouth house, while the projected annual profit on the flats is between £40,000 to £60,000 per block.
Lyam says: "The last two months the Truro serviced accommodation has been pretty much full – I would say about 90 per cent occupancy for that one. Over the year I would expect it to be 70 per cent because you've got to account for winter.
"Newquay is hard to judge because it's literally in the last week (Sep 2022) that it's been properly live."
However, he believes that with the other investments, it will increase their annual rent roll to about £350,000.
They find tenants for their HMOs through taking pictures of the accommodation and advertising it on the SpareRoom website. They also use software on OpenRent to vet people who come forward to make sure they can afford the rent.
"Because where we are it's really seasonal, especially with the serviced accommodation, we make sure it works as a single let in the winter just so we can just put someone in there. It's just a backup so that it doesn't go wrong," Lyam points out.
So far there have been no issues with tenants not paying the rent. One of their houses is occupied by contractors who are as 'good as gold.' The rest are young professionals.
They estimate their portfolio will make a total profit of £140,000 a year, enabling them to take out £70,000 as salary, says Lauren whose disbelief about the whole process vanished as the money started rolling in.
"When I saw the money coming in from that first property, I thought is it real? At the same time, I thought OK we can do it. But then when we got the keys for Truro for the SA flats and saw the income it was going to bring in, I realised this is real now and everything's going to change."
'We still shop in Primark'
From working so hard and not seeing her family enough, Lauren is looking forward to quitting her waitressing job soon. "It's so nice to feel that freedom is nearly there."
When she announced that she was leaving to pursue a career in property, her colleagues teased her.
"They were playing jokes, saying 'Oh look at the millionaire over there and you can buy us cars when you get there. They were supportive but didn't quite believe me."
Life has changed massively for them both. Before going into property, Lyam ran up debts after falling behind with loan repayments.
"I made some stupid decisions. I took out payday loans and didn't use credit cards properly. It'd be put on a bill but then you have to pay that bill and you couldn't keep up with that. It was just a downward spiral."
He adds: "We had a reselling eBay business but again that was more like a job. It took time to source the products and take the photos. I was in the house but in the office, so we wouldn't see each other much."
They are already noticing the difference property has made to their everyday routine. After Initially handling any emergency which might arise, such as a leak, and Lauren doing the cleaning, they now have people in place to help them – including a management company for the holiday lets in Cornwall.
Lauren says: "In the last couple of days we've systemised it quite well, so now we've got time even just in the house to tidy up and chill – and just do normal family stuff which is really nice."
Despite their new-found wealth, Lyam and Lauren are modest with their spending. They haven't bought any luxuries, such as fancy cars, and they still shop for low-priced items in Primark.
"I think I'll always shop in Primark to be fair," says Lyam, agreeing with his mentor Samuel that it is not about what you spend. It's about what you make.
Moving forwards, Lyam has big ambitions. "Business wise I want 100 rent–to–rent properties or lease options in the next four years. The way I'm looking at doing that is concentrating on blocks of flats and scaling it that way."
The entrepreneurs put down their success to the training they have received on the Property Investors Academy.
"The experience has been really good. The knowledge we've gained is second to none," says Lyam and the network you get is a big thing. I'll phone one of the other academy members up for just a normal talk, but they're doing the same thing. It' important to surround yourself with the right people."
He adds: "You've got to pinch yourselves sometimes just how far we've come. It's surreal."
They benefit from Mastermind calls every Monday with other students and have also attended Property Investors dinners, immersing themselves in their new world.
It has also helped them having family and friends who support them, 'even if they don't always understand what weare doing.'
Lauren says: "My mum lives in France. I called her the other day and told her about the lease options, and she was speechless. She was very happy, so it's just really nice to have that."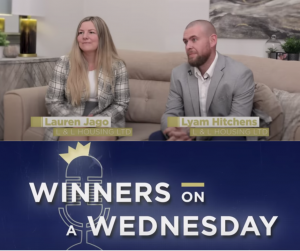 Lyam and Lauren's tips
Don't

give in

too soon. With us it was no, no constantly, bashing your head against the wall, but if you keep persevering you will make a breakthrough.




If you have a passion for property, go for it. The only reason you're going to fail is because you're not putting into practice what you've learnt.

You've got to have the drive to want to do it.

We wanted to build wealth for our family and leave behind a legacy. That kept us going.
Samuel Leeds' verdict
"The fact Lyam and Lauren have done so well despite having bad credit and no money is remarkable. They have become Mr and Mrs Landlord with all these keys to properties which they don't just control, but with the lease options can buy. That not only gives them an income which has enabled them to quit their jobs, but they can also benefit from the potential capital appreciation."