Property entrepreneur Simon Olsen, who trained on Samuel Leeds' academy, has built a £2m portfolio that generates an average profit of £14,000 to £15,000 a month. It includes a converted chapel yards from Chesil Beach in Dorset, which is rented out to holidaymakers and contractors, plus five rent-to-serviced accommodation properties in Coventry. His father is a partner in the business, heading up a separate maintenance and management company.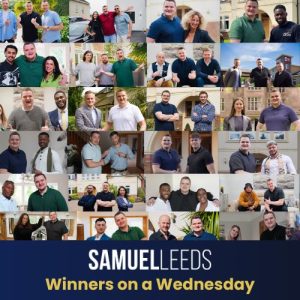 Chapel on the beach is a 'cash cow'
Simon worked as an engineer before going into property full-time. It saw him jetting off around the world, setting up automated warehouses.
He enjoyed his job, but at the time he was also trying to establish himself in business by buying rundown houses to do up and sell on at a profit. 
Simon felt under pressure and his work was not as glamorous as it sounded, he says.
"I was in America, France, Sweden. But let's be honest anywhere you can build a big warehouse isn't particularly a nice place to go."
Then he was made redundant in January 2023 as the technology company which employed him reduced its workforce. It was the second time in his career that he had been laid off.
"It just goes to show you are not safe in any job. My mother said to me when I started working at 16 for a company that manufactured bank notes, 'Simon you'll never be out of a job. You'll make money for a living.'
"Guess what? I got made redundant. Nobody uses cash anymore. Cash is trash. It's gone."
There was a silver lining, however, to being out of work again. It liberated Simon to go into property full time. Now his life is not only much easier, but happier – and he is making three times as much as he was as an employee.
"It was very stressful having a job and at the same time trying to build a portfolio doing refurbs. Now I've got so much more time. I haven't got the stress of the job and I'm not living out of a suitcase any more.
"It's really enabled me to transform my business and also spend a lot of time giving back, doing mentoring and spending time with family."
Simon's 'chapel on the beach' acquisition has proved to be a 'cash cow' or, as Samuel Leeds puts it, the 'golden goose that keeps laying eggs' for Simon and his father.
They paid £237,000 for the stone property, gave it a 'lick of paint' and then started renting out the furnished accommodation for short stays.
It's called the Cozy Cove Chapel and is in the Isle of Portland, just three metres from the 18-mile-long Chesil Beach which forms part of the Jurassic Coast world heritage site. 
Simon says: "We did a lot of due diligence on that. We understood there was demand in the area from tourism, and we can charge a premium. It's a unique property. It does really well on the Airbnb listings.
"The average profit a month during the summer is £3,700. That's financial freedom from one deal."
That figure drops to £2,000 to £2,500 a month in the winter, but 'clever' marketing ensures it is occupied throughout the year. 
"The Isle of Portland has got a massive dock, and we get a lot of cruise ships that come in. Olympic sailing also goes on there and there are a lot of military vessels. So, during the off season we target the contractors who come in. They're working on solar and radar systems, and ours is one of the only places that's got parking outside.
"When they've got all their expensive tools in the van, they want somewhere to park up. We've got a camera outside which keeps an eye on the tools as well. The cruise ships come in all year round and they're always looking for places to stay. So, we've reached out to them too."
He adds: "There are many standard studio apartments but this one stands out. And mostly the location drives a good occupancy rate."
There is a QR code in the property which links to their CRM (customer relationship management) software system, with a 10 per cent discount offered to guests who return. 
Simon also asks each of his customers their date of birth. "Everyone wants to go away for their birthday. It means if I have a gap in the calendar, I can go through my CRM system and send them a marketing email.
"It's all about treating it like a business. It needs nurturing and you have to understand these guests are people you're servicing. If you can provide a really good service, they're going to come back."
The business is fully systemised with the use of a channel manager. The cleaner can see the bookings and knows how to set up the beds. She also has a spare key to let herself in.
Simon describes her as a superstar. "She's even got contacts for maintenance people in the area if we need anything. So, we very rarely go there which is frustrating because it's such a lovely chapel. I would love to go to the beach more often."
In fact, the entrepreneur is so enamoured with the chapel he is planning to buy another similar building on the beach within a mile of the other one.
"This one's going to be an off-market deal. It's slightly smaller and does need a bit of work doing on it, but we've got a proven concept. If we can get £3,000 to £3,500 profit from that as well, that's big money."
Rent-to-rents make Simon 'fast cash'
In total, Simon and his father own six properties. They cash flow £8,500 a month, says Simon, who puts his success down to following the training.
"The numbers speak for themselves. I started in property in 2016 when I flipped a house. I joined the academy and was making roughly £1,500 a month. Now we're making £14,000 to £15,000 a month. Within 18 months it's exponentially grown. It's unbelievable.
"That's through learning all the creative strategies like HMOs, serviced accommodation, how to get super rent, and how to do rent-to-rents and deal selling. It all comes as a package and when you can bring that together it transforms your life."
He has completed several buy, refurbish, refinance projects, but also likes serviced accommodation.
"I don't think there's a right or wrong answer as to which is the best strategy. It depends on your personal situation, location and what your goals are in property.
"I remember Samuel saying to me, 'Simon you always do slow pound. You've got to make some fast pound. That was when we took on the rent-to-serviced accommodations. That made me fast cash."
Many of the BRR properties in his portfolio are rented out as SAs. He prefers doing that to having a single let which, he believes, is 'dead' in the current market.
"Unless you can get somewhere that's below market value, you're not going to make a profit, with a mortgage to pay and maintenance and management on top of that.
"We now actively target buy, refurbish, refinance to super rent to serviced accommodation or to HMO and that's where we make the money."
The biggest challenge for Simon was working full time while trying to hold down a high-pressure job. He was in America for three months and felt like he was almost on call with 'not enough hours in the day.'
"Since I've been in property full time it's been much more relaxed. I've got time to work on the strategic side of the business."
Their pattern of working has also changed. From taking up to a year to complete a house facelift, they are now taking on multiple deals at the same time and pushing them through much more quickly.
The extra time has enabled him to take up an invitation from Samuel Leeds to be a mentor for Property Investors. It is something Simon is passionate about, having previously mentored a lot of apprentices and put them through their engineering qualifications.
He too has received extensive mentoring, not just from the Property Investors founder, but also CEO Russell Leeds and Tony Crook, a business adviser for the company.
Simon says he wouldn't be where he is now without that mentoring. "It's my time to give back. It's great to see all the new academy members coming through and being part of their journey."
Commitment is essential when you are trying to juggle being an employee with trying to launch a property business, he emphasises.
"Everybody's got 24 hours in a day. It's just about how you use those hours."
While in the USA, Simon bought a house which took longer than he expected due to having to obtain signatures from solicitors.
"It was an absolute nightmare, but we got there in the end. If you want something badly enough, you have to commit yourself and get it done."
Having his father on board with him has been 'fantastic.' "He was working in a school as a premises manager and didn't like his job. So, we've got him out of the job. He's 50-50 with us now. He heads up our maintenance and management business which is doing really well.
"He's also built big extensions for people. He loves it. Just give him a wall to knock down and rebuild and he's in his element. Every day he gets up and wants to go to work."
The offshoot to their business came about naturally, Simon explains, after they refurbished two rundown maisonettes.
"Because they were done to such a high quality, we kept getting asked can you come and fit a kitchen, do you know anyone who can do a bathroom for me? We've got an extension that we want to get done.
"So, we identified that we've got an opportunity here because we've got all the contacts. We've got gas engineers, electricians, plumbers. It just made sense to open that maintenance business and also manage a few properties."
Simon wins Deal of the Year at awards ceremony
It has been quite a year for Simon and his company, Olsen Estates. In September, his 'chapel on the beach venture' won Deal of the Year at the 2023 Samuel Leeds Dinner and Awards Night. 
Following on from that, the businessman clinched his second interview with Samuel Leeds for his popular Winners on a Wednesday YouTube slot featuring successful students.
His latest project is to refurbish a derelict five-bedroom house in Dorset. It was on the market for £295,000 before being reduced by £10,000. Simon and his father then managed to secure it for £244,000.
Their plan is to take out a bridging loan and spend about £90,000 on doing it up and adding another two bedrooms. The projected gross development value is £470,000 which would allow them, through the refinancing of the property, to pull out all their money plus £20,000.
It will be rented out as an HMO with en suites in every bedroom, producing an anticipated profit of about £2,000 a month.
They have also recently completed a large extension on Simon's sister's house. "I call it project charity on our socials. So, we're not just adding value to our business and building our net wealth but also giving back to family."
Simon's tips
It's important to have diverse strategies. The Academy gives you a toolbox.
To find a below market value property I go on Rightmove, type in 40 miles of where I'm looking at and search for cash buyers. You've got the opportunity to negotiate them down.
The biggest learning point for me was to be consistent. As soon as I got my time back, I was able to do more viewings, put more offers in and get more deals.
Samuel Leeds' verdict
"Students will hear me say, don't kill the golden goose otherwise you'll feast for a day. Enjoy the eggs that the golden goose lays. The chapel is Simon's golden goose. Even if it went down in value, he's going to keep it because it's making him thousands of pounds.
"The reason he's making so much money is because he's paying attention to his customers. I love the fact too that Simon's brought lots of strategies together. He's a massive asset to the Samuel Leeds community."