It's been a whirlwind few months for Adam Brock. He joined the Property Investors Academy in April and by the end of the year had won £20,000 in The Eviction. With his winnings, the 37-year-old, father-of-two from Reading is about to embark on his first buy, refurbish, refinance project. He also has a rent-to-rent portfolio making around £3,000 a month. His prime motivation for going into property is to build enough wealth so that he can move his family out of a crime-ridden council estate to a better area.
'Reading one of Samuel Leeds' books was a gamechanger'
It took years of working hard and saving up his money for Adam, a tiler and bathroom fitter by trade, to be able to finally realise his ambition of buying a property. He started renting it out as serviced accommodation and quickly saw the benefits of having a tangible asset which would give him an ongoing income.
"I thought I've done this once, but this pays me every single month. If I have a few more of these that would be pretty good. But I didn't know how. I was just flapping around in the wind," recalls Adam.
Then he was given one of Samuel Leeds' books to read. In his words, it was a gamechanger. After attending two Property Investors Crash Courses, he signed up for the serviced accommodation course and then enrolled on the 12-month academy programme. "I haven't looked back since. Samuel changed my life. Everything he was saying at the crash course made sense and I just thought I've got to have more of this." Another reason for seeking a change of direction, apart from wanting to get away from the area he lives in, was his age. "My back is technically a bit buggered. My knees as well. Everything is hurting. I'm thinking I'm 37. What will I be like when I'm 67, or even in 10 years? I don't want to be tiling till I drop. "Also, when you're a tradesman you don't tend to invest in a pension. So, property is a long game as well as a short game."
Adam focused initially on the rent-to-rent strategy as this requires little or no money and now rents out three furnished properties in Reading on Airbnb. He pays the landlords a fixed, monthly rent under a corporate let agreement and then charges a higher amount to make a profit. Renting out the accommodation on a nightly basis enables him to boost his income.
One of his properties is popular with relocators, he says. "I get quite a few people from China and Hong Kong coming because it's quite close to London – 20 minutes on the train.
They generally stay a month to three months. "I will do the clean but when they're in there for a long time they don't really want to be bothered. So, it's just a passive income then. Because I've only got a few still, I've not automated it yet. I want to learn from doing it first." He adds: "I charge £90 to £100 a night, sometimes a bit more. During the festival and things like that it can go up to £250-£300 a night. The occupancy rate is 90 to 100 per cent. It's a good area. On that one I pay the landlord about £800 a month and the profit is around £1,200 a month."
Adam has been amazed at the amou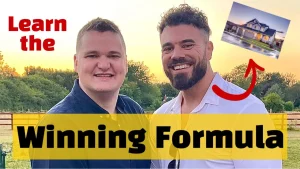 nt of money to be made. "People work really hard for that sort of money. It's not easy. Nothing worth doing is. You can face challenges, things you have to fix, but you learn. "If you get the proper training you don't have to face some of those problems on your own or you can avoid them before they happen." Landlords pass on their properties to people like him to manage for a variety of reasons, he points out.
"They might be accidental landlords, or they've just got a property and they don't really know what to do with it. They want someone to take it off their hands for two to five years and they want a guaranteed rent."
'The competition was one of the most challenging things I've ever done'
Winning The Eviction has given Adam the chance to spread his wings, both geographically and in terms of trying his hand at other creative strategies. He is about to launch himself into a buy, refurbish, refinance scheme in the North East. Using his prize money and joint venture funding, he will be converting a house in Hartlepool into a six-bed HMO. With a purchase price of just £70,000 and a projected end value of at least £200,000, it promises to be an excellent investment. Once the work is completed to a budget of £80,000, the property will be remortgaged to its new value. This will then enable him to pull out his money for further projects and repay his investors. He will also rent out the rooms, each with an en suite, which should generate around £2,500 a month.
"It's a very cheap area. Down south the house would have been easily £450,000 to £500,000. I drove up there when I was doing my due diligence. It seemed a bit dead, but once I got chatting to some of the locals, I found out the demand for HMOs up there is huge because they can't afford to set themselves up with a full property." Not surprisingly, Adam is on a high after his victory in The Eviction.
"The competition was an amazing experience. It was one of the most challenging things I've ever done, and I've gained so much confidence from it."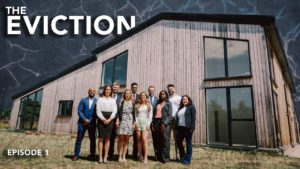 Ten candidates took part in the winner-takes-all competition which is run annually by Property Investors to kick-start the careers of promising students. The contest was held in a converted barn in Buckinghamshire with participants tackling a series of intensive challenges based on the skills and strategies used by real estate investors. After two eliminations in the first round, the last eight moved into the barn where they were divided into two teams for the tests.
Challenges included furnishing and staging the barn so that it could be put on the market, sourcing and selling a property investment opportunity, and securing a BRR deal. They also had to pitch it to a room of 200 investors and raise finance. In the final, Adam was asked to prepare a business plan for how he would spend the £20,000, going head-to-head with Cherelle Brade, a mother-of-three from Cardiff.
Property Investors' founder Samuel Leeds hosted the event, deciding who should be evicted after each round, having summoned the contestants to his boardroom to hear their fate. Adam had to talk his way out of being shown the door twice after being accused of lacking 'fire' and being 'too nice.' He excelled, however, when it came to finding financial backers, securing commitments of £430,000, and was also praised for his leadership.
Samuel's wife Amanda, a chartered surveyor with extensive experience of interior design, his brother Russell, CEO of the development arm of the company and mother Sue Gray, a BRR specialist, were among a group of mentors who gave the teams expert tips. They also gave their feedback on the candidates, along with last year's Eviction winner, Evans Willie.
A five-part YouTube documentary about The Eviction has so far attracted around 90,000 views. It thrust Adam into the limelight and yet it also proved to be an emotional rollercoaster.
Asked by Samuel Leeds why he should win, he replied: "I've worked my a**e off all my life and I'm still stuck on a council estate. There was a murder on my street about a year ago. I just want better for my girls. I want to move somewhere that's nice and away from violence and nastiness."
Adam who is married with a 12-year-old daughter and grown-up stepdaughter, had to request a break, wiping away a tear as he left the boardroom. He also told his host: "The area is quite tough for me to bring my family up like that. It feels like I'm a failure. I'm so sick of it. I just want to make my family proud."
The tiler turned entrepreneur was tearful again when he broke the news of his triumph to his wife Rachel. "I hadn't slept one wink the night before. That didn't help. All night I was thinking what's  going to happen tomorrow." When he looked at his mobile phone and saw the money had gone into his bank account, it was a massive shock, he says.
"It's not every day that someone gifts you £20,000. I still can't believe it." 'Everyone is so supportive on the Property Investors Academy' Adam is hoping to move quickly with his Hartlepool venture, having already got a build team in place and is aiming to complete a minimum of two BRR projects in the coming year.
"It's crazy. You think you're going to have to spend your life saving up just to buy one property, especially if you're on an income which is just about covering your living costs. It just feels like a mountain you've got to climb, but it's really not." By the end of the year, retirement would be an option. It's not, however, in his thoughts just yet. For one thing he is enjoying being part of the Property Investors Academy too much.
"Before I started the academy and The Eviction, I had a handful of friends. I'm not a great socialiser but now I can't keep up with the number of friends I've made. We're all like-minded which is nice. Everyone is so supportive. It's a really nice atmosphere to be in."
His Hartlepool deal came from another academy member. "I've watched him for a while, and I totally trust people who are in the academy because they've invested in themselves. Once you do that you deserve a bit of trust."
He has also benefited from Monday Night Mastermind Zoom calls with Samuel Leeds when students can share their successes, get advice and bounce ideas off each other. "When I joined the academy that took pretty much all the money I had, but the way I saw it was I could keep saving and struggling to buy something else or I could invest in myself and be able to move quicker. A big thing we say on the academy is you can move fast on your own or far together. Even if you took the courses away, the amount of people you meet who can help each other is worth it in itself."
Adam is also keeping in touch with his fellow Eviction competitors through WhatsApp chats, with one of them already wanting to do a joint venture with him. He admits feeling nervous when he watched the YouTube footage, but found it enjoyable nevertheless.
"I'm not a big fan of cameras but it was edited really well. It should have been on the telly. It feels like it should be everywhere."
Adam's tips
Pay a pound and get yourself down to the Property Investors Crash Course.
In property, a lot of people overthink things, like worrying about their logo. You just have to get on and do it.
You need to get comfortable feeling uncomfortable.
Samuel Leeds' verdict
"Winning the competition was an outstanding achievement, particularly as the deadlines for the tasks were very tight. Adam got increasingly stronger as the contest went on. He avoided being evicted by the skin of his teeth, but in the end, he was the last person standing and thoroughly deserved to win the cash prize. I think he will go on to do great things in the property world."
? Available Now – 'Property Millionaire The Board Game' – can you become a property millionaire? https://www.samuelleeds.com/property-millionaire-board-game/ 
? My #1 best selling book is available: School Drop Out to Multi-Millionaire: A Copy and Paste Guide to Getting Seriously Rich 
? How to build a property portfolio from scratch in 7 DAYS: https://youtu.be/RWEkj1y8XKs
❓Have a question about property? Join my Property Facebook Group: https://www.facebook.com/groups/
?️FOLLOW ME ON SOCIAL MEDIA:
Instagram: https://www.instagram.com/samuelleedsofficial
Facebook Group: https://www.facebook.com/groups/
Facebook Page: https://www.facebook.com/OfficialSamuelLeeds
Twitter: https://twitter.com/samuel_leeds