The new owners of one of Britain's oldest country estates have been revealed as twenty-something millionaire property entrepreneurs Samuel and Russell Leeds.
The brothers have acquired Grade II listed Ribbesford House in Worcestershire which has a wealth of history going back to William the Conqueror and beyond.
They paid £800,000 at auction for the property and plan to restore it to its former glory with a sensitive development of luxury apartments for rent. There are another two cottages on the 8.15-acre site, bordering the River Severn, which may be turned into holiday lets.
Ribbesford is also famous for its associations with prominent figures such as Charles de Gaulle and Rudyard Kipling.
Russell Leeds, 29, said the mansion nearly slipped through their hands after they were outbid, but the buyer withdrew and they were offered it the next day.
"We are highly conscious of its history and the importance of preserving the building. It has immense character and we intend to return it to its heyday," he said. "I love old buildings and love them to stay – I live in a Tudor house myself."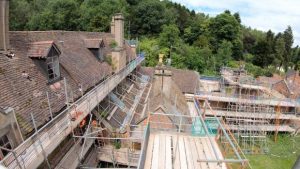 The house, set over three storeys with two octagonal towers to the rear, was built in the mid-16th century and still retains many of its original features including wood-panelled rooms. It is already split into 12 flats, but part of the roof is caving in and the tenants moved out in September.
"We are looking at several options as to how to best use the available space," added Samuel. "Two of the flats have 45sq m sitting rooms. The accommodation really is vast and would suit people who love the country life but also want to be close to urban facilities."
The estate, one mile from Bewdley, was first mentioned in writing in an early 11th century Anglo-Saxon charter, stating that Wulstan, Bishop of Worcester, had given it to his sister. During the Danish conquest it was seized by the invading forces but later regained by the Monks. They held it for a short time before Turstin, a Fleming, captured it again.
In 1074, the estate was presented to Ralph de Mortimer in recognition of his services to William of Normandy. It remained in the Mortimer family for hundreds of years.
In the early 17th century the house and land passed to Edward Lord Herbert of Cherbury. A subsequent owner was Sir Henry Herbert, Master of the Revels for King Charles I and II and Member of Parliament for Bewdley.  A quantity of his correspondence was discovered in one of the towers, including letters from the Queen of Bohemia, Oliver Cromwell and General Fairfax.
During the Second World War Ribbesford was requisitioned and used by British, American and Free French military. General de Gaulle visited the house to see French cadets in training in the run-up to D-Day. Bewdley-born Prime Minister Stanley Baldwin and his cousin, Rudyard Kipling, were among other notable visitors.
In 1947, Wing Commander Howell and his wife bought the mansion and converted it into private apartments.
Samuel and Russell Leeds have their own pedigree to boast about. Samuel, 27, was a self-made millionaire who could have retired at 21. Russell too was financially free by his early twenties. Both made their money through astute property investing. Remarkably, before this, they were professional magicians.
They merged their business interests recently to form the Leeds Group, which includes Property Investors UK, a successful training company for would-be investors. Samuel is chairman and Russell's CEO. They also have a lettings agency and a construction company. The latter will carry out the repair and conversion work costing around £750,000. Their HQ is at Hilton Hall near Wolverhampton.
The pair left school at 16 and their business is now turning over around £250,000 a month.
Check out the links below for other featured stories